Hello World!  For the last 10 months I have been developing and designing the best new digital marketing company that Cordova, TN (Memphis Suburbs) will see. I have been so caught up with starting this business and getting as much information in front of potential clients and on social media that I realized I didn't share key pieces of information.  Who is the V in VSmith Media?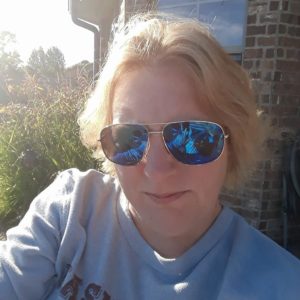 Well world, I am Victoria Smith a mere 38 year old entrepreneur who in the last two years has reinvented herself and now I am ready to reinvent or invent for you.  I'd like to take this time to tell you how this company came about and how I am going to deliver for you and your small business or growing brand.  But let me tell you about my background first.
I attended public schools my entire life in a military family that was luckier than most because I only attended five public schools and one DOD school in 12 years.  It was great because when you move around like this, depending on the last district you attended school, you can either be ahead or behind the curriculum. In this case I was well ahead, so my senior year I went to school in the morning and was able to work in the afternoon for work study and get college prep classes done. Graduating in 1998 I would go to community college first.  I attending State Technical Institute of Memphis, now Southwest Tennessee Community College where I majored in Graphic Arts Technology with a concentration of print production and a secondary focus in multimedia design.
Here I was served with Alpha Beta Gamma, a business honor society as a member first then as president of the Chi Epsilon Chapter from 2002-2004 and as national student officer in 2003.  Through this program I learned what it meant to be an entrepreneur and run a non-profit organization, raising funds and developing programs to enhance the futures of others.  In 2004 I graduated with Cum Laude honors and then moved to Texas where I attended Angelo State University. I studied journalism and communications, my passion since the first time I wrote in high school and then for ABG.
I attended Angelo State part time while I worked full time as a graphic designer for a sign company full time before opening my first business as a graphic design consultant in 2008, then added the umbrella of a print magazine focused on the rise of mixed martial arts in Texas in late 2008.  I would also dabble in radio and television production while attending ASU, where I acquired the contacts and opportunities to work in the sports entertainment industry for my remaining two years in Texas.  I worked as a marketing assistant for the San Angelo Saints in 2005 and then as the marketing consultant for the San Angelo Stampede and San Angelo Colts teams in 2008 and 2009.
In late 2009 with a thriving graphic design business and evolving publication and several hours of working on sports marketing promotions I would see the start of the next chapter of my life.  Wait for it. . .  I began the plans for my wedding which would happen in the Spring of 2010.
It was after my wedding in late July that I moved, once again, back to Memphis. This is my husbands hometown and also where my parents and older brother still live. So in other words, home.
I closed the graphic design business, shut down the magazine; all which were doing very well when I did, but that chapter of my life was over.
Upon my return to Memphis I began working in corporate america for the first time when I took a job as a marketing assistant at Fred's Hometown Discount Stores in August 2010.   I knew this company well, it had been a Memphis grown business since I could remember and my mother in law and other in laws had worked for this company over the years.  I was excited to leap into a new experience and explore a new area of growth.
At Fred's I was responsible for print media and assisting the SVP of Marketing in any area he needed since I had a wide range of skills to apply to the job. I would participate in any project I had time for, which included anything from community relations to IT Marketing development.
Then I was promoted to Media Distribution Manager just 18 months later.  This job gave me the responsibility of managing the sales circular program for 600 stores across the southeast United States and other forms of print medias associated with the retail side of the business.  Working closely with great printers, direct mail agencies, the USPS, media buyers, ad agency teams and my favorite, the in-store radio production team.  I loved every minute of what I did while I was here.
Then in early 2015 I began to jump more into the digital media portion of the business. I stated handling the print coupon portion of the business as well as digital coupons which later led into mobile apps and other IT related projects. It was here that my growth and choice to go into digital marketing full time came to light.  But this wasn't the only thing that changed my direction for the coming months.
In July 2015 I underwent gastric bypass surgery to help my failing outer self return to a better health in order to deter constant flare ups from auto immune disorders.  This decision came after losing my father to cancer in 2011 and mother to cancer(s) in 2013.  Both parents supported every choice I made in my life and guided me to be the person I am today. So I knew doing this would only be fore the best.
I would return to work just 3 weeks post surgery and I jumped head first into a lot of changes at Fred's.  I would see new bosses in different departments including in marketing.  These changes only made me see what I needed to do more.
After the surgery I began to evaluate everything I had done thus far in my career and my life and I decided to jump fully into the digital marketing industry.  I had the opportunity to work closely with Fred's new ad agency working with the social media and web development team.  It was at this time I was able to see that my skills from community college and even Angelo State could be implemented into strategy of the digital marketing world.  Developing websites had already been tackled while a graphic designer, but learning SEO and PPC advertising this I would have to teach myself.  I began online studies and learning from experts and professionals I had worked with over the years.  It was then I realized I knew a lot of what it took to do this job through my experience and working responsibilities.
In November 2016 I began working as a full time marketing consultant.  I utilized my 15 plus years as a marketer and captured one main client, a local psychic medium. I spent a majority of time improving her brand and thrusting her into her next chapter through social media, web development and even worked as her booking agent for all of her appearances and event promotions. This was the first client I was able to put all my skills from each area of my knowledge base to work. I also worked as the coordinator and sole marketer for her event the Memphis Metaphysical Fair.  I developed this brand, rained in the vendors and put on a great first year event for this client.  Then as I parted ways to give birth to VSmith Media which happened in August 2017.
Then in September 2017 I opened VSmith Media, LLC and my brick and mortar location in Cordova, Tennessee.
Through all the chapters of my life, I am now in chapter 38 which is the climax of my life the start of a beautiful foundation for what you can expect from me next.  Everything I have used in every position in every job has allowed me to be the best digital marketing specialist with only two goals; building brands and developing thriving sales growth through today's digital spaces.  One step at a time though.  Local. Search and Social. Then we'll move into mobile and application.
It is my honor to grow with your brand, company or non-profit if you'll accept a driven, goal oriented digital marketing specialist and her team as your new Digital Marketing Company of record.
Jump over to my services page to see what we can do for you.
Victoria Smith
www.vsmithmedia.com 
VSmith Media – A Digital Marketing Company
Get Hits, Get Leads! Local. Search. Social.