As a social media manager, VSmith Media will monitor, contribute, filter, and measure and otherwise guide the social media presence of your brand, product, individual or corporation.  Our team always begins with a quick audit of your current social state to determine how your presence stands and what we need to do to improve it.  Are you using the proper channels, do you have a model in place to deliver the results you are seeking through these channels and are you delivering the message of your brand mission through these channels?
Example:
If you want to reach fans with engaging commentary that relates to your business you would likely use Facebook or Twitter.  But if you are wanting B2B sales you would likely use LinkedIn or Google to build relationships and drive sales.
What we do:
We will build the marketing funnel for social that is right for your brand with a strategic approach and quite honestly the most realistic plan available.  If you aren't ready to jump into us managing month by month your entire strategy and execution and you just need help creating your social profiles we can start with social media profile service for a flat fee of $99 for up to four profiles.
VSmith Media will manage all channels within a single dashboard and post schedules and content for approvals before any posts go out or campaigns are executed.  While we know you want us to handle it all, we always want to be on the same page when it comes to the content and voice of your brand.  Some brands have strict rules in place as to what type of content they allow vs. other clients who wish us to handle what we feel appropriate. Either way you will always sign off before posts go out to the public.
When you agree to have VSmith Media manage your social media marketing we will sync your channels into a dashboard that if you wish can be turned over to you at any time with access.
Consider your goals for why you want social media implemented to your strategy then give us a call with questions or Book a FREE 30-minute consultation to review and answer questions you may have.
Let's work together to make your social media marketing strategy a successful one!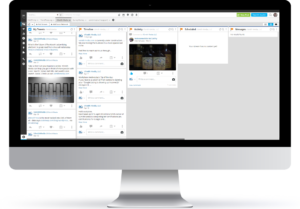 With every client we start with reviewing your current social media presence through an audit.  The Audit tells us what affect your social can/has made on your online presence. Do you have online reviews that are negative? Do you have a large following, but low sales?  Maybe you want to review your social goals, either way, our audit can open the doors for improvement.
Our Social Media Marketing Plan includes the following:
Social Media Audit
Updated Social Media Strategy
Organic Growth Strategy
Create/Improve Social Profiles
Monthly Post Creation
Access/Management of Social Channels
Monthly Reporting
All post creation will be presented to you (the client) prior to release with option to make changes.  Generally, we create posts for 2-week periods allowing us to include current event content that affects your strategy.
To get started it's easy, simply place a deposit of $75 and our team will be in contact with you to begin the information gathering process and begin our social media audit.  Our Audit process takes 7 business days to complete alongside our strategy approach suggestions.
Our monthly Social Media Marketing Plan runs $335 a month with a minimum of 6-month commitment or $355 a month if you pay month-to-month. Save $120 with a six-month commitment.
*Deposits are non-refundable.
Shopping Cart
Your cart is empty