A successful Real Estate Agent should have a website that sells their talent and services. It should show their sales activity (buyer and seller), their services as well as an up-to-date listings search. Then the next level agent should consider posting blog articles about their expertise like staging, senior services, or luxury real estate to name a few. Through word of mouth and updated SEO a successful real estate agent's site can convert more sales and generate more leads that you can then send emails, send postcards, or ever sell their home. With PRO listings we will keep visitors informed of your featured property status and help you close your deals fast and effectively.
Using a tried-and-true sales funnel using MLS/IDX, emails, and social media plus blogging your visitors will want to work with you, the expert, on their next home purchase or sale. Get started today by understanding our process of creating sites and maintaining your property listings, commonly referred to as featured listings, but we call them PRO Listings.
Then once you get your sales, we can display your client testimonials without relying on Zillow and Realtor. Your agent website should reflect your portfolio of sales, buyer and seller represented, and client testimonials. When you use Zillow and Realtor you to reflect your portfolio, it's only the listings you sold on MLS, what about the sales you made off MLS?
This is where PRO Listings enter the picture. Provide a history of the property statistics without adding it to MLS.
As an agent you have access to the MLS but site visitors need a way to search all the properties on the market. Using iHomefinder IDX you can create access to your featured listings, all local listings, and listing notifications.  Using a Eureka Search vs. Standard Search your site visitors can narrow their search more efficiently.
Give home buyers and sellers more information with monthly updates market repors for the markets you cover.
Using iHomeFinder IDX feed with CRM we can help create leads from your listings that can be fed to your own email database like mailchimp, LionDesk, and more
Market Report pages
Data that stays fresh and lets you focus on selling
TARGET YOUR MARKETS
Easily define your local markets with search options or draw locations on a map.
SHOW AREA LISTINGS
Always-current listing reports for sold, active and open homes in all your targeted markets.
HIGHLIGHT MARKET STATS AND TRENDS
We crunch the numbers on prices, inventory, and timing so your site's always up to date.
ADD NEW LEADS
Site visitors become leads when they sign up to receive reports by email.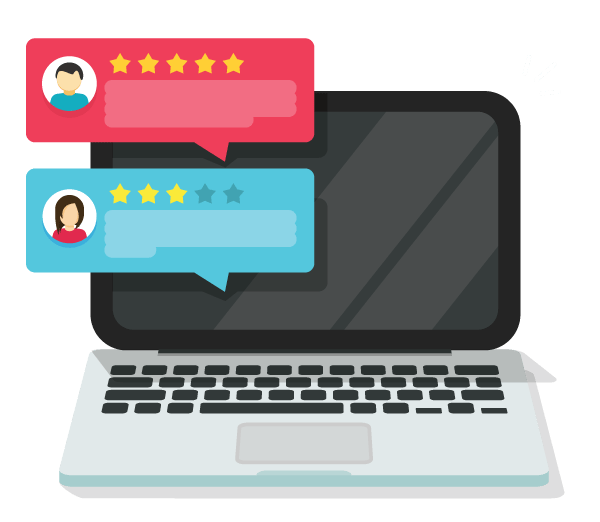 Easily collect and display testimonials on your website
.
Transform your business by leveraging client reviews and testimonials!
Testimonials are the rubber stamp of approval that customers need to seal the deal in a digitally driven society. In a world of fake news and "influencer" mistrust, consumers have grown weary of sensationalised sales claims. Which is exactly why testimonials are important – to customers and marketers alike – for building relationships.
Reputation is everything in real estate. Which agent are you more likely to go for, the one with no reviews or the one with hundreds of positive reviews? Bingo. And therein lies the importance of testimonials for enlisting your most enthusiastic brand advocates to deliver some reputational flex on your behalf.
In the numbers:
88% of consumers trust online testimonials and reviews. In turn, this helps you sell more to your clients.
Make customers

63%

more likely to purchase with testimonials that drive sales.
Websites using testimonials saw a

45%

increase in traffic compared to those who didn't (Yotpo)
Listing 10 or more reviews increased traffic 15 to 20% on Google Business listings (Big Commerce)
Improving star ratings from 3 to 5 stars can increase clicks on Google up to 25% (Bright Local)
Businesses with 5 stars earned 69% of total clicks amongst top Google listings (Bright Local)
Reviews account for

9.8%

of total search engine ranking factors (Search Engine Watch)
Expert Information through Blogs

Most real estate agents today are realizing that having a web presence is a must if they want to be successful. The reality is, anyone looking to buy a home is going online first. This is true even for grandparents, but it is especially true for younger buyers. If you want to appeal to a wide audience, you have to be online.
One of the keys to an online presence is blogging. Blogging has been a large part of my own real estate business.
Creating a real estate blog does not have to be difficult. You only need to pick some topics that you think people will want to understand better, and start writing. If you are not keen on the writing part, you can always hire someone to do the writing for you. Once you have the basis for the blog, you can edit it to your liking and then publish it for your readers.
Results from blogging may take some time, but the fact is, there is no better time to start than now. In a year, you will have a blog with plenty of information, and you will have added to your credibility as a REALTOR®.
Having exceptional real estate content is of course the most important piece of the puzzle if you hope to be successful with your blog. Promotion however, comes in a close second. If you want to make sure your blog becomes a reliable business source you are going to need a plan to make sure it is visible. There are a number of ways to do this. Frankly, this is where many blogs either fail to get off the ground or die off all together.
Blog 2 Social
When it comes to promotion of your blog, you will want to be active is some of the more active social media sites such as Facebook, Instagram, Twitter, and even LinkedIn. These are all valuable places where your content can get shared driving traffic back to your site. Do you enjoy social media? If so, blogging and social media go hand in hand like peanut butter and jelly. Your blog will become the foundation of all your social media efforts.
Don't waste time publishing individually to each network, our design team will automate the publishing with a simple plugin and generate a return of traffic to your site by allowing followers to find your blog content through social media.