Description
Automatically generate Google Ads for your eCommerce site. Reach customers in your target market, looking for what you sell, within minutes using our automated tool.
Getting found by nearby searchers, while they are actively looking for specific products or services, is the single most impactful thing any small business can do to survive today. Just look at what all the "big guys" are spending the bulk of their advertising dollars on – search ads. Now any small business can compete with the bigger guys in Google search, using our affordable cloud-based, automated tool. We take the products from your eCommerce site and generate product-specific Google Ads to be displayed in Google search. We generate extensive keyword lists for each of your products and target the ads to the desired location. Built specifically for eCommerce retailers, as well as local businesses offering pickup or delivery options with an eCommerce site, our automated Product Based Google Ads tool ensures any small business can be found in Google searches.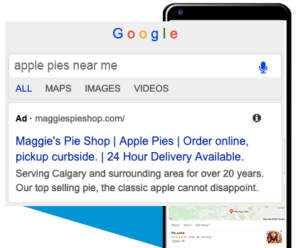 Ad targeting is fully customizable and can be set locally for businesses using an eCommerce site to process local pickup or delivery orders.
For eCommerce retailers with an extensive product catalog, we can easily ingest product data using automation, and tailor ads for each of the products you sell.
Now, regardless of budget size, you can compete with the big guys for that next new customer.
And it takes no time on your part – we do all the work.
Our platform automatically creates ads for each of your products or services, focusing on long-tail keywords – more specific words describing what you sell. This means you won't overspend on generic, broad search terms, and results in a campaign that reaches motivated, engaged consumers at the point of purchase.
Fully automated, Cloud-Based Platform – no software or downloads required
Fast setup – ads are live in two business days
Hands-free maintenance – we continually monitor and optimize your ads using automation
Flexible budgeting options – suited to small businesses
Quantifiable results – we offer detailed reporting on your ad campaigns in a way small businesses can understand
Frequently Asked Questions?
Question: How much of the fee is actually used for advertising and not service?
Answer: $107.95 is used directly for ad costs. $15 is for platform fee of the first 149.95 + 20%. So $41.99 of the $149.95 is used for service fees. A $50 add-on-spend can be added and a 20% service fee will be deducted for each increment of $50 you ad per month.
Question: How do I track the performance of the ads?
Answer: We provide a dashboard you can log in to anytime to view stats on your Google Ads. We also send weekly reporting snapshots and a monthly overview. For tracking these visitors once they come through to your website, we set up auto-tagging on each ad – this allows you to view performance in Analytics in the Google Ads section.